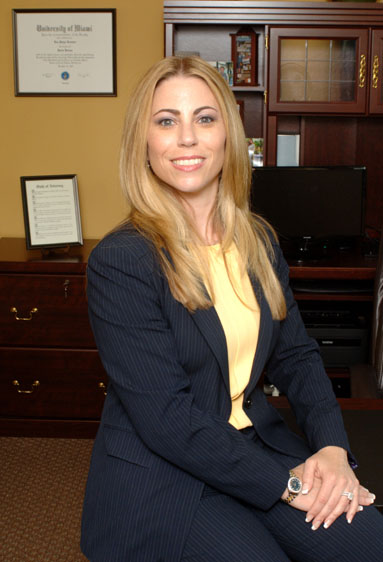 Lea P. Krauss attended the University of Miami School of Law, graduating early, in 2½ years, with honors. After earning her law degree at the University of Miami, she became a prosecutor with the State Attorney's office. Her tenure as an Assistant State Attorney for Broward County afforded her unique insight into the workings of the criminal justice system, as well as invaluable trial experience. She was responsible for evaluating evidence, determining what charges to file, handling plea bargaining and preparing for and trying cases in court. As a prosecutor and in private practice, she has handled thousands of cases ranging from simple misdemeanors to complex felonies.
Attorney Lea P. Krauss places particular emphasis on DUI defense. Her skill in this complex and specialized area is backed by training at the Institute of Police Technology & Management, where she learned how to properly administer a standardized field sobriety exercise (FSE) and studied its admissibility or inadmissibility in court.
Lea is an avid negotiator and litigator driven to protect the rights of criminal defendants facing a variety of charges, including DUI, theft and drug crimes. She also deftly handles record expungements and appeals. She is widely recognized in the legal community for her skill and her dedication to her clients.
In addition to her criminal practice, Ms. Krauss practices Family Law and is a Florida Supreme Court Certified Family Mediator. You can trust in Ms. Krauss' tireless, dedicated legal representation to resolve your family law matters as quickly and compassionately as possible. She provides you with the essential legal counsel you need to get through the challenges and emotional stress of family law issues. As a Family Mediator, Ms. Krauss can assist you and your clients in all family law matters. The consummate goal of mediation is to aid the parties in resolving conflict in a cost-effective manner. Recognizing the parties know more about the issues, the final settlement decision rests with the parties. Ms. Krauss strives to ensure your mediation process results in a positive and mutual agreement, while providing unparalleled dispute resolution services.