DUI – How We Can Help
With so much at stake in a DUI case, it is critical that you have a knowledgeable, experienced DUI attorney. As former Assistant State Attorneys, our DUI lawyers understand the procedures an arresting officer must follow, how the law must be applied, and how to challenge evidence, including Breathalyzer tests.
The DMV case, in which your driver's license can be taken away; and the criminal case that, depending on the facts of the case, can result in jail, fines, an ignition interlock device being installed in your car, alcohol education classes, community service, impounding of your vehicle, or a combination of these things.
Our first priority following your DUI arrest is to request a DMV hearing within 10 days. In Florida, if you or your attorney do not request a DMV hearing in time, your license will be automatically suspended on the 10th day following your arrest.
How We Can Help
10-Day Driver's License Rule
DO NOT JUST PLEAD GUILTY TO DUI!
Can I Beat This DUI?
ABCs of DUI Evidence
DUI Penalties
How to Get Your License Back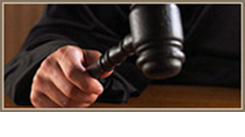 What Sets Us Apart
Our firm focuses on providing well-grounded, innovative solutions to your legal problems or those of loved ones. We are known not only for the high quality of our legal work, but also for the personal service we provide.