Probation & Parole Violations
If you violate your probation or parole, you face serious repercussions, including community service, heavy fines and extended jail time. Prior convictions and/or parole violations can elevate the penalties even further.
If you are accused of violating your probation or parole, our criminal defense lawyers can help. We understand and can explain all available options and penalties.
Please contact us today for a FREE consultation with one of our experienced and effective criminal defense attorneys who can evaluate the circumstances of your case and help you avoid excessive penalties or punishment. Our 24-hour telephone number is (954) 288-7447. We look forward to helping you and your family through this very difficult time.
Definitions:
Probation is the suspension of a jail sentence. A person who is "on probation" has been convicted of a crime, but instead of serving jail time, must serve probation according to specific conditions and under the supervision of a probation officer. General conditions may include maintaining employment, sticking to a curfew, living where directed, abstaining from unlawful behavior, following the probation officer's orders, not fleeing, and refraining from contact with other individuals, who may include victims of the original crime (such as a former partner in a domestic violence case), potential victims of similar crimes (such as minors when the crime involves child sexual abuse), potential witnesses, or those who have partnered with the offender in the earlier crime.
A probation officer usually monitors the offender and helps him or her adapt to living in the community and behave in a lawful and responsible way.
Parole is the conditional release of a prison inmate after serving part or all of his or her sentence. The Florida Parole Commission grants parole, which allows an inmate to live in the community under supervision and according to specific conditions. Violation of the conditions of parole result in revocation and re-imprisonment.
A parolee may be restricted to a particular community, job, or home. Friendships or associations and where he can travel may also be restricted. He may also be placed in a community-based residence. A parolee may be required to obtain psychiatric treatment, outpatient therapy and drug counseling and testing. Parole violations include being found in possession of a weapon or illegal substances, concealing whereabouts, failure to report to a parole officer, associating with people with criminal records, or an arrest and conviction for another offense.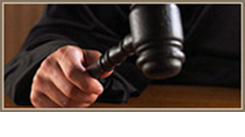 What Sets Us Apart
Our firm focuses on providing well-grounded, innovative solutions to your legal problems or those of loved ones. We are known not only for the high quality of our legal work, but also for the personal service we provide.