Domestic Violence
Domestic violence and spousal abuse charges have never been more serious. In the past, police would respond to a domestic disturbance and settle the matter with no arrest. Now, a call to 911 almost always ends in a full arrest and aggressive prosecution. As a result, domestic violence defendants could face high bail, extensive fines, restraining orders and jail time.
If you have been arrested or charged with domestic violence or spousal abuse, you need to consult with an experienced Florida domestic violence attorney right away. Our firm's proven approach for a successful defense against domestic violence and spousal abuse charges involves a strategy specifically targeted to domestic cases. We apply our many years of prosecutorial experience to achieve the best possible outcome for each domestic violence and spousal abuse client.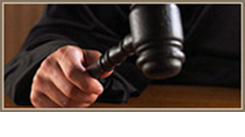 What Sets Us Apart
Our firm focuses on providing well-grounded, innovative solutions to your legal problems or those of loved ones. We are known not only for the high quality of our legal work, but also for the personal service we provide.