DUI
People from all walks of life face DUI charges every day. Even the most responsible drivers can find themselves facing a drunk-driving arrest. Anyone who operates a vehicle or vessel with a Blood Alcohol Concentration (BAC) that is over the legal limit may be arrested for DUI.
If you've been arrested for driving under the influence of alcohol or drugs, you could face license suspension, heavy fines, skyrocketing insurance premiums, even jail time.
Click the items below to expand the different sections:
How We Can Help
10-Day Driver's License Rule
DO NOT JUST PLEAD GUILTY TO DUI!
Can I Beat This DUI?
ABCs of DUI Evidence
DUI Penalties
How to Get Your License Back

Please view our Resources Section for more relevant links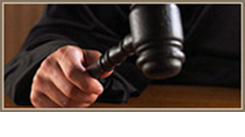 What Sets Us Apart
Our firm focuses on providing well-grounded, innovative solutions to your legal problems or those of loved ones. We are known not only for the high quality of our legal work, but also for the personal service we provide.